AMISOM presence improves locals lives
The AMISOM CIMIC Office of the Kenyan Contingent in Sector 2 has in the past few months embarked on offering outpatient medical services, provision of water through sinking of boreholes and water pans and building of latrines throughout the sector.
In Afmadhow town in Lower Jubba Region over 1,000 local residents have benefited from the outpatient medical services including medical checkups and provision of pharmaceutical drugs offered by the AMISOM troops.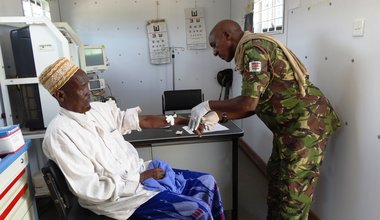 Three water pans were also recently constructed in Fafadhun in Gedo Region by the engineer component in the contingent. The water pans now supplement the previous sole functional water pan in the area. This has made it easy for the residents to access water for both domestic and livestock use, improving their ability to maintain a sustainable livelihood.
Additionaly, in Afmadhow the CIMIC team sunk a new borehole which is expected to be commissioned soon. Once operational, perennial water shortage in the area during the long dry season will be a thing of the past.
In Degelema which is about 10 kilometers to the South East of Dhobley, residents benefited from ten latrines built by the AMISOM team. The building of the latrines was necessitated by an urgent need for latrines in the area. Before, many families were forced to use the few latrines available. The villagers were also taken through a sensitization program on matters related to hygiene.
Bisharo Adow, a Degelema resident, whose Somali name translates to 'Glad Tidings' in English had this to say during the handing over of the latrines:
"On behalf of Degelema residents, particularly women, I commend AMISOM for constructing the latrines. This has restored our dignity as human beings. Women now don't have to walk far in search of privacy as they did previously."