British envoy to Somalia commends troops
Baidoa:  The British Ambassador to Somalia, Amb. Harriet Mathews has commended AMISOM Ethiopian National Defence Forces (ENDF) troops for playing a pivotal role in the fight against Al Shabaab. This, she noted, has greatly improved the security situation in Sector 3 which is their area of responsibility, and in the rest of Somalia by extension.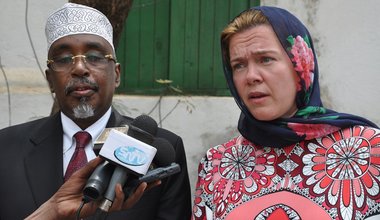 The Ambassador was speaking at AMISOM Sector 3 Headquarters in Baidoa when she paid a courtesy call on the Sector Commander Col Yemane Gabre Mikael. She was accompanied by the President of Interim South West Administration (ISWA) Sharif Hassan Sheikh Adan.
Amb. Harriet further said the United Kingdom was committed to partnering with the Federal Government of Somalia and all players of goodwill to ensure there is sustainable peace and security in Somalia. "The UK Government is also planning to play a role in providing, as appropriate, technical and other support to enhance the capacity of Somalia State institutions, one of which is the Somalia National Army," she added.
On his part, the ISWA President recognized the role played by AMISOM troops in the liberation of Baadheere and Diinsoor. He praised the troops for their sacrifice and dedication, adding that because of their resilience, the Federal Government of Somalia had further expanded and consolidated control over its national Territory.