The UN in Somalia marks the 70th anniversary of the United Nations
MOGADISHU, Somalia – United Nations staff in Mogadishu, Somalia today joined colleagues across the world to mark the international body's 70th anniversary.
To commemorate the occasion, hundreds of UN staff in Somalia participated in a clean-up exercise of the seashore in Mogadishu, an exercise symbolic of the UN's commitment to ensure a better world.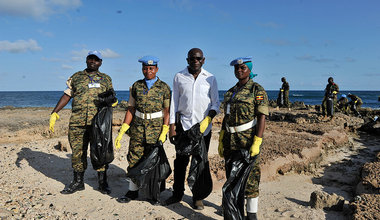 Peter de Clercq, the Deputy Special Representative of the UN Secretary-General (DSRSG) for Somalia and United Nations Resident and Humanitarian Coordinator, read Secretary-General Ban Ki Moon's message.
"The United Nations defends human rights for all, regardless of race, religion, nationality, gender or sexual orientation. Our peacekeepers are on the frontlines of conflict; our mediators bring warriors to the peace table; our relief workers brave treacherous environments to deliver life-saving assistance. The United Nations works for the entire human family of seven billion people, and cares for the earth, our one and only home. And it is the diverse and talented staff of the United Nations, who help bring the Charter to life," stated the Secretary-General in his message.
In his own remarks, DSRSG De Clercq hailed the UN staff in Somalia for their sacrifice and dedication to serve humanity despite the challenges they face.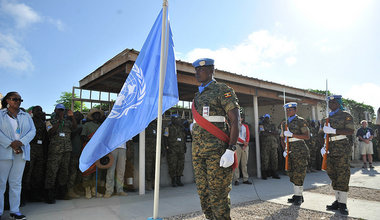 The day's events also featured a flag raising ceremony celebrating the dedication, courage and expertise of UN civilian and military personnel who devote their lives to peace, development and respect for human rights throughout the world.